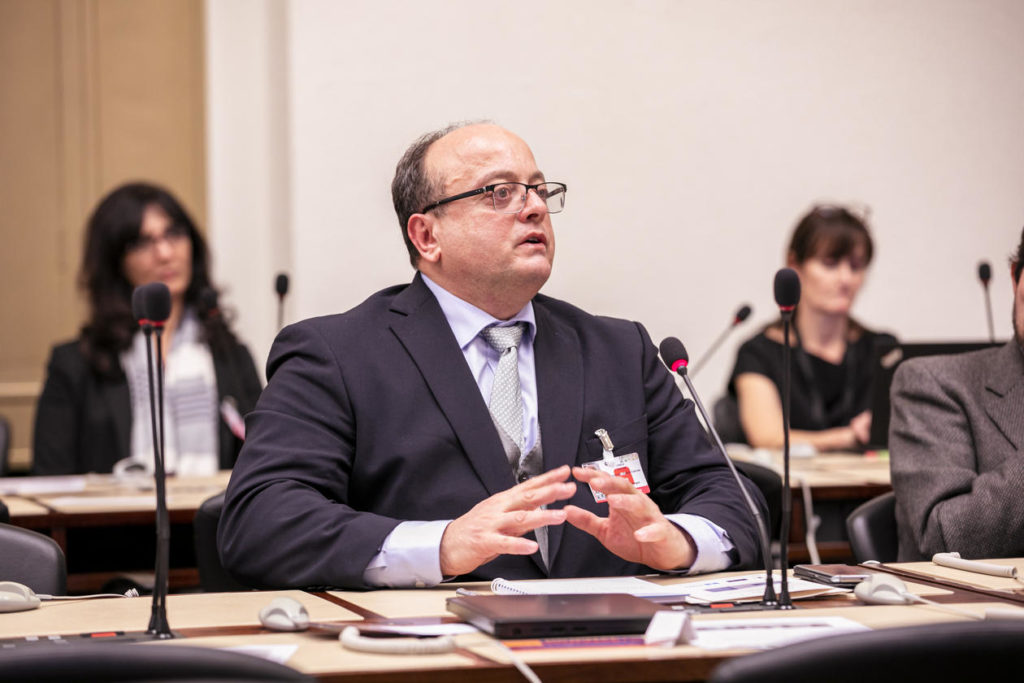 In December 2019, the project leader of PROTECT Hakan G. Sicakkan participated in a first gathering in Geneva for the UN High Commissioner of Refugees (UNHCR) Global Academic Network. The gathering took place as part of the UN's Global Refugee Forum and coincided with the first year anniversary of the two UN Global Compacts on Refugees and Migration.
This article was first published on The University of Bergen's website. Author: Sverre Ole Drønen. Photo: UNHCR/Antoine Tardy
Whilst visiting Geneva, Professor Sicakkan presented two pledges to the UN community. One on the University of Bergen's research efforts in PROTECT for "Identifying the Best Institutional Architectures in Governance of the Right to International Protection in Europe and Their Transferability to Other Regions." The other on behalf of the PROTECT project, a migration research assess "the Effects of Political, Legal, Governance and Attitudinal Aspects of Protection Capacity on Implementation of the Global Refugee Compact." PROTECT is supported through the EU's Horizon 2020 program.
"The pledges are first that the University of Bergen will provide research on refugee protection capacity and the global governance of refugee protection through PROTECT, and second that the PROTECT consortium will evaluate the implementation of the Global Compact on Refugees," says Sicakkan.
Sicakkan was one of the speakers, both in the network meeting and the general assembly at the forum.
Read the two pledges made by Professor Sicakkan here by searching for "The University of Bergen" in the Pledging Entities field.
"We received a lot of attention in Geneva. Not the least due to PROTECT being the only international project focusing on the Global Refugee Compact to have been funded," says the political scientists, who also was happy with new contacts made during the two-day event, "my goal to increase the project's and the University of Bergen's international visibility where met, as the forum could result in us getting a broader international network around PROTECT."
Linking academia and decision-makers
The main aim of the Global Academic Network is to link academia, policy-makers and practitioners in the field of forced displacement and statelessness.
"The network was part of the UN Global Compact on Refugees (GCR), which was passed in December 2018, and one year later the UN gathered 22 researchers from around the world for the first network meeting," says Sicakkan.
The GCR Global Academic Network is one of the proposed specific arrangements for burden and responsibility sharing.
Three main tasks for expert network
According to the University of Bergen researcher, the Global Academic Network will have three main tasks.
"First, we will work to facilitate training and scholarship opportunities to support the objectives of the Global Compact on Refugees. Second, help junior academics and researchers from areas with a lack of existing networks to engage more in global networks and discussions. Third, we aim to broaden the geographical and thematic scope of disciplines and academics working in the field of migration research," explains Sicakkan.