Who says what? Studying social media discourses on international protection
Who's mentioned more frequently in social media posts related to refugees and migrants: Angelina Jolie, Pope Francis, or Donald Trump? Which political leaders appear more frequently? Which organizations do people talk about in relation to migrants and refugees? In this vlog, Anamaria Dutceac Segesten presents some of our preliminary data on social media discourses surrounding refugees and migrants.
One of the goals of PROTECT is to charter prevailing discourses on refugees and migrants circulating in the public sphere. This is done by examining content from social media and news media – the actors, and networks of actors involved in producing discourses, and the ideas and attitudes they communicate.
This research is the focus of PROTECT's Work Package 7, which combines analyses of media outputs from over 30 000 multi-lingual news sources with millions of social media posts from Facebook, Twitter, YouTube, Reddit, blogs, and more.
The data material stretches from 2014-2019 and captures the coverage of and reactions to real-world events such as the peak of the refugee crisis, Brexit, the adoption of the Global Compacts, and more.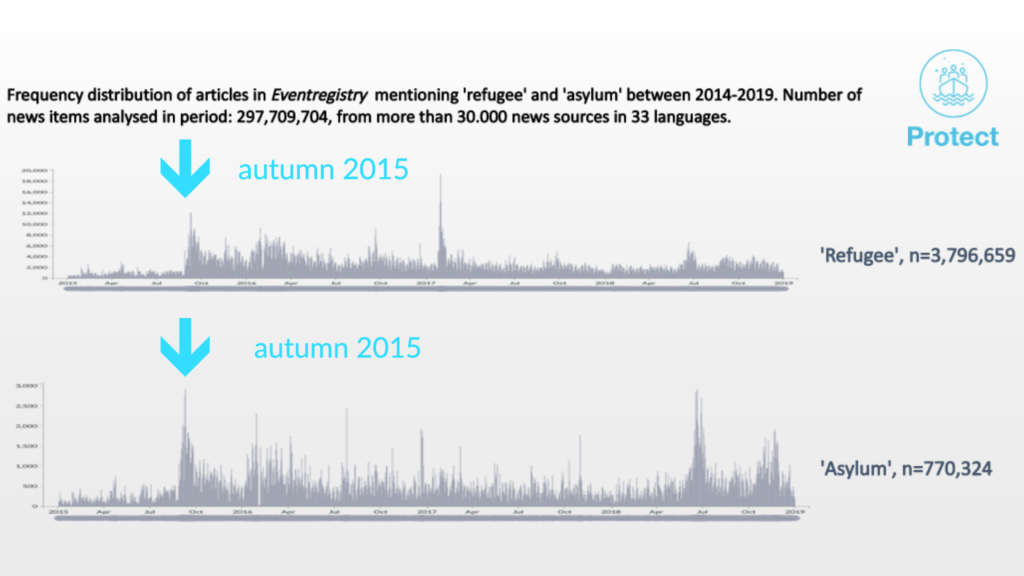 ---
The essence of Work Package 7:
PROTECT's Work Package 7 is co-led between Anamaria Dutceac Segesten from Lund University and Slavko Splichal, and Boris Mance from the University of Ljubljana.
---
Related blogs:
In a previous blog, Dr. Sara Schmitt from the University of Stuttgart has reflected upon the potential of conducting social media research. Analyzing social media discourses on migration and asylum issues can reveal new cleavages in society, political polarization, and ideological fragmentation – and help us understand how discourses differ across different social media platforms, claims Schmitt, who is also involved in the research of WP7.
Read more below: